HOW TO KNOW YOUR BANGLE SIZE?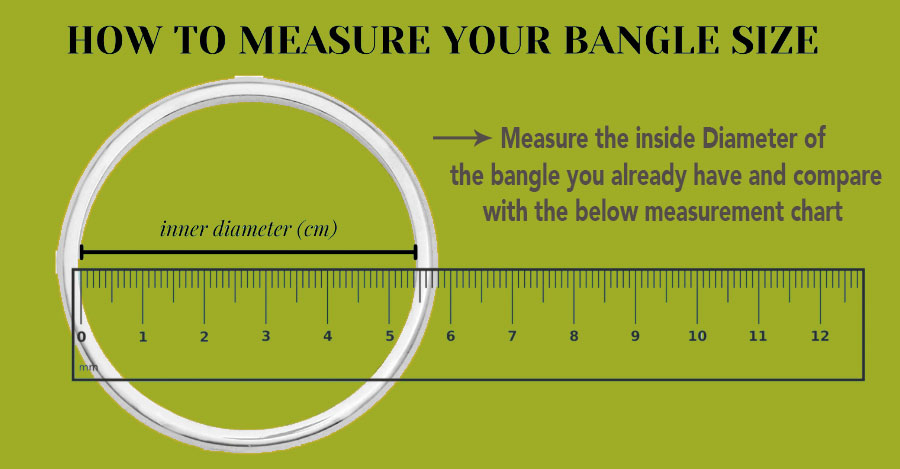 Its super easy to know your bangle size, just follow the steps below-
Take a bangle that fits you perfectly.
Measure the inner radius in cm or mm
Look up the diameter on this size chart to get your size.
In case you do not have a bangle, bring your thumb and fingers together. Measure the circumference of your hand at the widest point using a thread. Then measure that with a ruler, you will get the circumference of your bangle, and then compare it with the size chart below.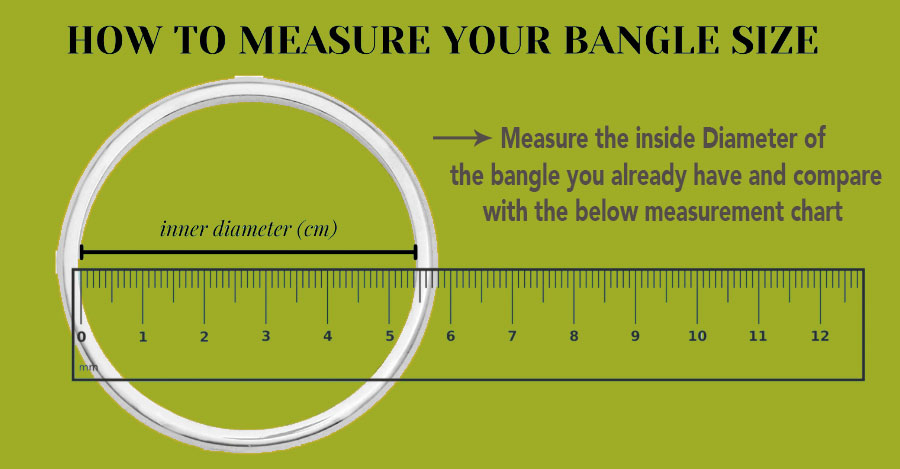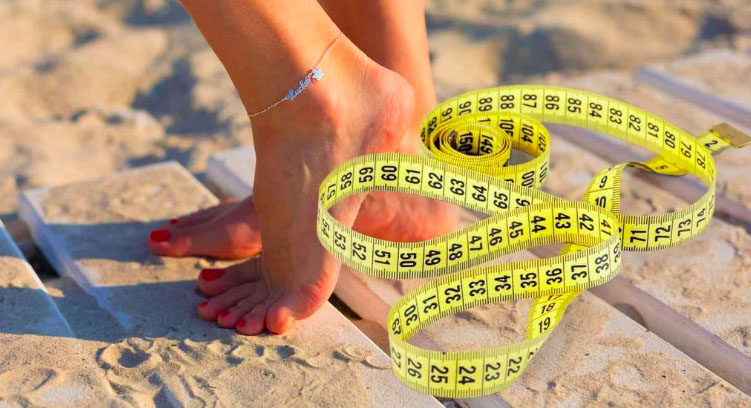 It is not too difficult to determine the size of an anklet that will fit you. All you have to do is measure your anklet size.
A string of 20cm in length
A marker
A ruler
Below are the steps to measure your anklet size,
Firstly, you have to take the piece of string and wrap it around the region of your ankle that is the broadest.
Take the marker or pen and mark the string at the spot where you want the circumference of your ankle to be recorded.
Take the string and keep it on a flat surface
Take the ruler to determine the distance from one end of the string to the marked point of the string.
Add between 2-2.5 cm for comfort to get the final measurement.
HOW TO MEASURE YOUR WRIST FOR A BRACELET ?
To measure your wrist for a cuff bracelet, link bracelet, or any style of bracelet that opens:
For this type of bracelet, you will just want to know the circumference around your wrist.
Hold your arm with your hand relaxed and fingers gently outstretched. With your other hand, wrap a soft measuring tape around your wrist where you would like to wear the bracelet – don't pull it tight, just measure at a comfortable tension and there is your wrist measurement!
Note down the measurement in cm or mm and check with the length of the bracelet mentioned in the description of the produc
If you do not have a flexible measuring tape, you can use the same method with a piece of non-stretchy ribbon or string, mark where your size is (where beginning of the ribbon hits the part that is wrapping around), then lay flat and measure the length with a ruler.
IF YOU STILL HAVE DOUBTS ABOUT YOUR SIZE PLEASE BE FREE TO GET IN TOUCH WITH US 😀